What Parents Are Saying
Why I (the mom) love ASUU:
The wonderful environment. I've worked in 4 child care centers and have 15 years experience in Early Childhood Education. Putting the needs of children above all other needs is, to me, the sign of quality care. ASUU's child-centered philosophy shows in every aspect of the program- from the facility to spending priorities to the way each adult interacts with the children there. It is clear that ASUU is about caring for children.
The scheduling. Trying to work while my husband also works and goes to school is a scheduling challenge. ASUU meets our scheduling needs and provides some flexibility as our needs change.
Parent Advisory Board. This was a big deal to me when I enrolled our daughter at ASUU. I felt empowered knowing that I would have a substantial voice in the planning and decision-making that directly impacts the center.
The staff. The quality of staff at ASUU is outstanding. These are not people who just want a job, these are people who love children and are invested in quality care. Our daughter says thanks for all her teachers, by name, in her prayers at night- a sign to me that they are making a lasting, positive impact on her!
The curriculum. I know when I drop my daughter off that she's going to be engaged in activities that are interesting to her and enriching. She is going to develop skills appropriate for her in a safe, active, purposeful environment. She thinks she's just playing, but I know there is thought behind the play that is taking place. Thoughtful play is where early learning happens best.
Why my daughter (age 2) loves ASUU: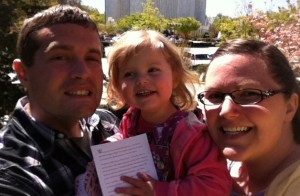 There are so many things to play on and there's always something to do!
Painting, coloring, exploring. (I think she came home with green paint on some body part every day of fall semester. She loved it and I loved seeing her love it.)
Friends to play with!
Slides and bikes, 2 things she can't live without.
Little chairs. When the world is always so big, it's nice to have a place where things are your size!
ASUU has been so important to our family. Now that Aaron is graduating, we are so grateful to the people who made his degree possible, and we include ASUU on that list. What a wonderful experience it has been having Dad and daughter both attending the U of U. One in Graduate school, the other in pre-under-graduate school. We love that our girl looks at us and says, "I want to go to school today. Go Utes!" That is the true measure of success. - Katrina Herd
---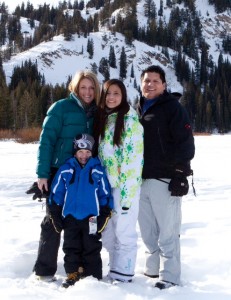 Today is [my son]'s last day at the center and it is bittersweet for me. He is ready and so excited to move on to kindergarden, but if I could keep him small and keep bringing him to your center I would! I can't thank you and all the staff at the center enough for everything you have done for us over the years. [My son] has attended the center since he was two years old and I owe all of the teachers and staff so much gratitude for the role they have played in his development. He has grown into such a happy, healthy little guy and I think he is fully prepared for his next big step in life. I truly accredit a big part of that to the wonderful teachers and staff that have worked with him, the thoughtful and well planned curriculum, and to the loving environment you provide. As if that isn't enough to thank you for, your center also played a significant role in my ability to continue my education. Without the flexible schedule you offer, the reasonable prices, and the convenience of on campus child care, it would have been near impossible for me to finish my undergraduate degree and continue on to grad school.
You, all the staff, and ASUU deserve recognition for the wonderful service you provide to the University community.
Sincerest thanks, Robyn Moreno- 8/2/2012